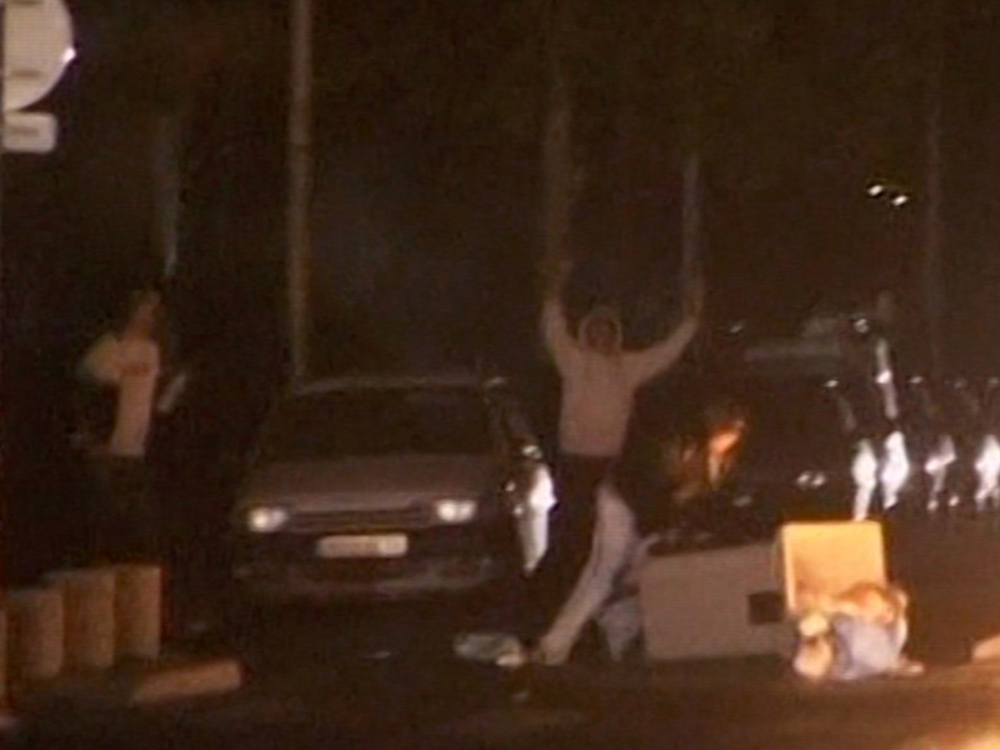 View trailer
Taking its name from Gustav Mahler's song cycle set to poems by Friedrich Rückert (the title translates as Songs on the Death of Children), Virgil Vernier's Kindertotenlieder examines the cyclical nature of oppression and revolt. Repurposing footage of the 2005 French riots, Vernier presents a reconstructed chronology of a moment in recent French history that still remains painfully relevant. Through a careful treatment of factual chronology, Kindertotenlieder addresses themes of institutionalised racism, brutality, political apathy and youth disenfranchisement – contributing factors of a sociopolitical cycle aiming to achieve a certain so-called safety and security.
Tali Liberman's poetic and philosophical road movie travels between Jerusalem and Jericho, a journey otherwise untraversable by satellite navigation and Google Maps. This examination of the political and legal reasons as to why technology is unable to detect a route to the Palestinian territory where Jericho is situated is embedded in Liberman's multi-layered moving image project that unfolds here, reimagining a connection between two states in still-deeper and more painful turmoil. Unrendered Road confronts how these navigation systems act as another form of checkpoint, barring entry to or exit from the region. Liberman's research questions the political and societal structures that underpin cartography as it seeks to redraw the borders between these two historic cities.
Sixty years ago, the French Guianan town of Kourou was chosen as the site of France's new space centre, following France's departure from Algeria. Audrey and Maxime Jean-Baptiste's film gives voice to the 600 Guianese people who were unceremoniously removed from their homes as a result. Combining archival footage with stories of those who were displaced, Listen to the Beat of Our Images restores this lost town to something more tangible: cementing and reanimating the community's legacy beyond the images that remain, and juxtaposing the rush to colonise the stars with the injustices of postcolonial displacement.

These screenings are UK premieres, and are followed by a Q&A with directors Virgil Vernier, Tali Liberman, and Audrey & Maxime Jean-Baptiste, hosted by film curator and film producer Luke Moody.
08:15 pm
Fri, 03 Dec 2021
Cinema 1
£13 Full, £11 Concessions, £6.50 Green/Blue Members
Multibuy offer: 5 events of your choice for £40 Full, £35 Concessions
Red Members gain unlimited FREE access to all exhibitions, films, talks, concerts and performances.
Join today for £20/month