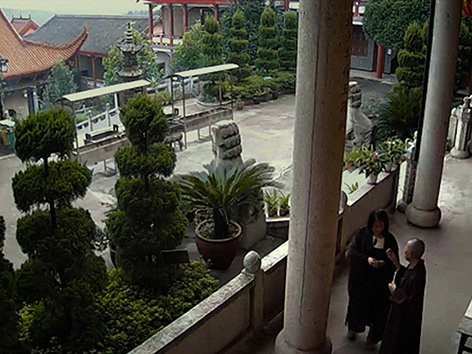 View trailer
Created entirely from hundreds of hours of downloadable Chinese surveillance footage,
Dragonfly Eyes'
unsettling fictional narrative tells the story of a young woman who leaves a Buddhist monastery to begin a new life, working in various jobs until she ultimately finds fame online. The synthesised voiceover, written by poet Zhai Yongming, threads together disparate footage – a woman drowning in a canal, a car driving in the rain – as we're confronted with an insightful yet troubling image of contemporary life and the unfeeling technologies that regulate it.
Xu Bing's innovative editing together of footage found online and Hanno Yoshihiro's score, which ranges across sentimental Chinese pop and foreboding electro, is an attempt to illuminate the relationship between the people being watched and the machines doing the watching. In this way, the film's concern is the texture of the present: how the spaces we inhabit and have come to know are increasingly framed by the gaze of others, both human and computer.